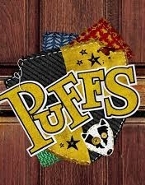 PUFFS
or
Seven Increasingly Eventful Years at a Certain School of Magic and Magic!
West High Theatre Dept
West High Performing Arts Center
November 18, 2021 at 07:00 PM
November 19, 2021 at 07:00 PM
November 20, 2021 at 05:00 PM
Ticket Info: orabuena.christy@tusd.org
You can buy tickets at the door - $10
" For Seven years a certian boy wizard went to a certain Wizard School and conquered evil. This is the story of the PUFFS... who just happened to be there too."
THIRD OR NOTHING!
View This Playbill